We have been looking at different pictures of the parable of The Prodigal Son
Prodigal means wasteful or extravagant.
Rembrandt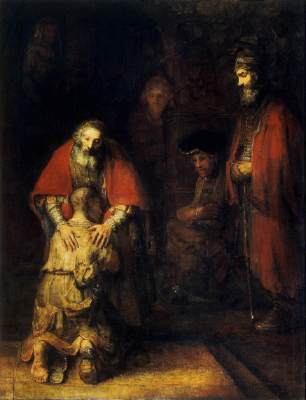 GeorgeD: I liked the Rembrandt. It looks dull to start with but there are loads of hidden things. I like the way the light falls on them.
Xaria: I liked the Rembrandt because it captured the moment in the story. The son might be thinking "sorry Dad, I really missed you. I shouldn't have betrayed you"
Amelia: I like the detail in the Rembrandt.
Wesley
Mia: I like the Wesley. The characters stand out because there is nothing else. The dad is probably saying 'why are you so thin?'
Charlie: the Welsey is my favourite. I like the way they are hugging. It looks like a really tight hug.
I think if I ran away and came home my mum would hug me, then shout then hug me some more. Then she'd invite everyone over to celebrate.
Guercino
Joss: I liked the Guercino. It's simple, with just the two main characters and a servant.
Emilia: I liked the colours and the emotion in the Guercino picture.
Lola: the Guercino looks really realistic and detailed.
Esteban
Milan: the Esteban is my favourite. I liked all the happy people.